Sweet Valley High : Deceptions (Book No 14) Francine Pascal, Kate Williams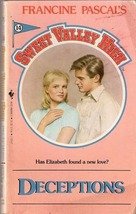 Only 1 available
Details
Shipping: US-Mainland: $3.60 (more destinations)
Condition: Used
Returns: 10 days, buyer pays return shipping (more)
Sweet Valley High : Deceptions. This is Francine Pascals 14th book in the series. Written by Kate William, Published by Bantam Paperbacks, 1984. Recommended for ages 12 and up.
Elizabeth Wakefield is stunned when Nicholas Morrow asks her for a date. A newcomer to Sweet Valley, Nicholas is fabulously wealthy and extremely handsome. Even though Elizabeth would never cheat on Todd Wilkins, her steady boyfriend, Nicholas is so attractive and sincere that she agrees to go out with him just once.

To make matters worse, Jessica, Elizabeth's scheming twin, announces that Nicholas Morrow is the boy for her. Suddenly Nicholas is the only thing on Jessica's mind. Elizabeth is terrified to think what will happen if Todd or her twin finds out about her date with Nicholas. But who can keep a secret from Jessica Wakefield?