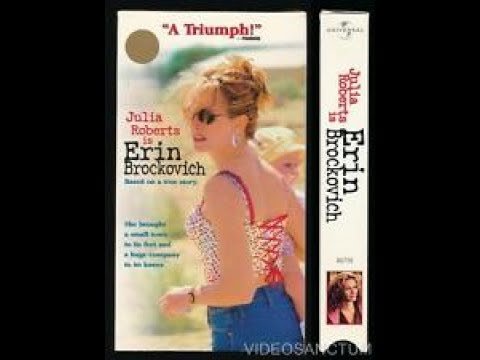 Only 1 available
Details
Shipping: US-Mainland: $3.60 (more destinations)
Condition: Used
Returns: 10 days, buyer pays return shipping (more)
Erin Brockovich (VHS Movie) starring Julia Roberts, Albert Finney, Aaron Ekhart, released in 2000 by Universal. Rated R. 2 hrs 12 min runtime.
Based on a True Story.
Erin Brockovich is a 2000 American biographical film directed by Steven Soderbergh and written by Susannah Grant. The film is a dramatization of the true story of Erin Brockovich, portrayed by Julia Roberts, who fought against the energy corporation Pacific Gas and Electric Company (PG&E). The film was a box office success, and critical reaction was positive.
In 1993, Erin Brockovich is an unemployed single mother of three children who has recently been injured in a traffic accident with a doctor and is suing him. Her lawyer, Ed Masry, expects to win, but Erin's explosive courtroom behavior under cross-examination loses her the case, and Ed will not return her phone calls afterwards. One day, he arrives at work to find her in the office, apparently working. She says that he told her things would work out and they did not, and that she needed a job. Ed takes pity on Erin, and she gets a paid job at the office.