Only Love by Elizabeth Lowell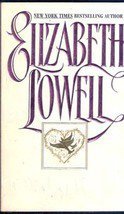 Only 1 available
Details
Shipping: US-Mainland: $3.60 (more destinations)
Condition: Used
Returns: 10 days, buyer pays return shipping (more)
Only Love by Elizabeth Lowell, Paperback published by Avon Paperbacks, 1995. Book in near mint. Part of her Only Series Book 4.
′There is no finer guarantee of outstanding romance than the name of Elizabeth Lowell′ - Romantic Times.

Cast adrift during the War Between the States, Shannon Conner grew to womanhood in a lonely cabin high in the Colorado Rockies. Though stubborn and courageous, Shannon is ill-prepared to deal with the predatory Culpepper brothers - and the intoxicating ardour of the man who defends her honour, Rafael ′Whip′ Moran.

A loner and a wanderer, a man tied to no place or promise, Whip aids the wary young ′widow′ who has a walk like honey and a determined grip on her shotgun. But neither the Culpeppers nor grizzlies are as dangerous to Whip as the passion Shannon offers him - a passion that could cost Whip the freedom that is as much a part of him as his soul.