Candle by Mary Harwell Sayler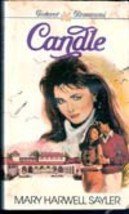 Only 1 available
Details
Shipping: US-Mainland: $3.60 (more destinations)
Condition: Used
Returns: 10 days, buyer pays return shipping (more)
Candle by Mary Harwell Sayler, Paperback published by Guidepost Books, 1988. Forever Romance series. Used Book in Very Good condition. Small stain on cover, excellent inner reading copy.

"I should tell you, Mr. Seaton, that I'm not a churchgoer."

Noah Seaton rejoices when he spots Candle O'Shea at the employment agency. After running through a string of beautiful, bubble-headed secretaries, he needs someone exactly like Candle -- mature, no-nonsense, and not much to look at. So Noah hires her to help with his book about the Christian church, without realizing that behind Candle's facade lies a woman as warm and bright -- and beautiful -- as her namesake. But Candle is not only hiding her beauty, she is also masking her real reasons for coming to Florida. One thing Candle cannot disguise is the bitterness that fills her at the thought of church -- that gathering of judgmental people who, in her childhood, sucked her dry of any joy, leaving her only a vivid picture of a wrathful God. Will Noah be able to lead her back to the loving body of Christ, especially after he finds out what the real Candle O'Shea is like?