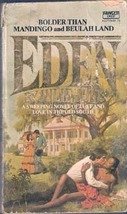 Only 1 available
Details
Shipping: US-Mainland: $3.60 (more destinations)
Condition: Used
Returns: 10 days, buyer pays return shipping (more)
Eden by Julie Ellis, Paperback published by Fawcett Books, April 1976. Contains the original hardback text. Book has small chip on upper cover corner, inside has the no 25 written inside.
Pretty, young Vicky Wickersham knew Michael Eden only a few hours before she agreed to become his wife - in name only.

Life at his elegant Louisiana plantation made Vicky strangely uncomfortable. She soon discovered the old mansion housed carefully guarded secrets about the Edens and their slaves. Shocking relationships had led to dark, unspeakable truths that could bring ruin to the entire family.

Vicky knew this sinister atmosphere had left an indelible mark on Michael. An otherwise intelligent and sensitive man, he came to her in bouts of drunken lust. And Vicky could not resist him.