The Tailor of Gloucester by Beatrix Potter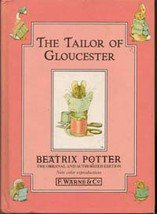 Only 1 available
Details
Shipping: US-Mainland: $3.60 (more destinations)
Condition: Used
Returns: 10 days, buyer pays return shipping (more)
The Tailor of Gloucester by Beatrix Potter, Hardback published by F. Warne & Company, 1992. Reproduced from All original art work of Beatrix Potter.
The Tailor of Gloucester
The Tailor of Gloucester first edition cover.jpg
First edition cover
Author Beatrix Potter
Illustrator Beatrix Potter
Country England
Language English
Genre Children's literature
Publisher Frederick Warne & Co.
Publication date
October 1903
Media type Print (hardcover)
OCLC 884366
Preceded by The Tale of Squirrel Nutkin
Followed by The Tale of Benjamin Bunny
The Tailor of Gloucester is a children's book written and illustrated by Beatrix Potter, privately printed by the author in 1902, and published in a trade edition by Frederick Warne & Co. in October 1903. The story is about a tailor whose work on a waistcoat is finished by the grateful mice he rescues from his cat and was based on a real world incident involving a tailor and his assistants.