Only The Present by Noelle Berry McCue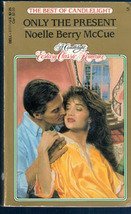 Only 1 available
Details
Shipping: US-Mainland: $3.60 (more destinations)
Condition: Used
Returns: 10 days, buyer pays return shipping (more)
Only The Present by Noelle Berry McCue, Paperback published by Dell Publishing, September 1986. Part of their Candlelight Ecstasy Classic Romance Series. 187 pages. Near mint condition.
Maureen finished her song and bowed to the applause. Her sultry glance swept the crowded room, then stopped short as she met the piercing steel-gray eyes of Daniel Lord.

The memory of a night three years ago flashed across her mind like a movie scene. He was the man who had so brutally forced his passion on her, who had used her and so coldheartedly left her. She had lived a lifetime since--and vowed never to love again. But now he was back, determined to make her his wife! Had he changed? Did she dare trust him? Was this the beginning of a new love song or just an old--and dangerously seductive--refrain?