To Love a Stranger by Blythe Bradley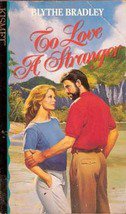 Only 1 available
Details
Shipping: US-Mainland: $3.60 (more destinations)
Condition: Used
Returns: 10 days, buyer pays return shipping (more)
To Love a Stranger by Blythe Bradley, Paperback published by (Kismet Romance) Meteor Publishing 1993,
Most travelers came to Bellington Cay in search of paradise amid the warm tropical breezes and swaying palm trees. But when Diana Foster arrived after a grueling trip, only to learn that her reservation had been cancelled, she found the Caribbean island stifling. Desperate for a place to rest, she stumbled into the island's only pub and collapsed in the arms of a stranger.

Trevor Sinclair was intrigued by the woman in his arms. It wasn't just the fact that he hadn't held a woman this close since he'd lost his wife a year ago. There was a certain quality in Diana Foster -- something about her soft, full lips and untamed gold-streaked hair that made him want to keep her in his arms and protect her forever.

When Diana caught a glimpse of Trevor Sinclair, she was sure she'd been saved by a gentle pirate. With long black hair, a thick beard, and a swarthy grin, Trevor looked more like a Caribbean sailor than a successful businessman. From the way his tender touch melted her heart, Diana found it hard to believe that this was the villainous man who had caused so much heartbreak in her family. She had found her man. Now she would just have to see that he paid the price....