Legacy of Secrets by Elizabeth Adler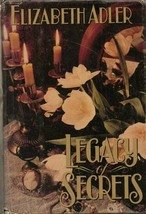 Only 1 available
Details
Shipping: US-Mainland: $3.60 (more destinations)
Condition: Used
Returns: 10 days, buyer pays return shipping (more)
Legacy of Secrets by Elizabeth Adler, Hardback with Fair Dust Jacket, Published by Delacote press, 1993.
Legacy of Secrets by Elizabeth Adler (Hardback / Dust Jacket) 1993, 1st Edition Hardback in decent dust Jacket. Delacorte Press
She was the incomparable Lily Molyneux, whose jet hair and sapphire eyes drove men to madness and revenge. Rich, reckless titles, her secrets would scar generations to come . . . . They could never have enough money or power to capture her elusive heart: three men who amassed fame and fortune in pursuit of the one woman they couldn't deny. And a fourth who dies for her sins . . . . Elizabeth Adler's enthralling novel of passion, privilege, and retribution sweeps from the castles of nineteenth-century Ireland to Boston bustling Back Bay, from Beacon Hill's mansions to Wall Street's towering heights: three generations haunted by buried passions that refuse to rest in peace . . . . "Ingeniously plotted . . . . Spiced with betrayal, revenge, lust and scandal, this is an intoxicating brew served with panache".-- "Publishers Weekly". "Maudie Molyneux [is] one of the most delightfully original narrators in recent memory".-- "Chicago Tribune". "In a narrative that purrs like a Rolls, Adler once again weaves and spins her story threads skillfully".-- "Kirkus Reviews"