The Girl Next Door by Kate Welsh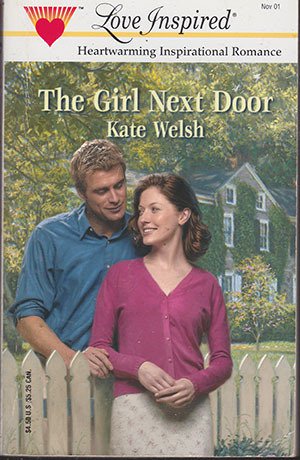 Only 1 available
Details
Shipping: US-Mainland: $3.60 (more destinations)
Condition: Used
Returns: 10 days, buyer pays return shipping (more)
The Girl Next Door by Kate Welsh, Paperback published by Steeple Hill Books part of its Love Inspire Series, 2001
Jeff Carrington was fortunate to have survived a horrific riding accident, but lucky was the last thing he felt. His Olympic dreams shattered, he wanted only to shut himself away from everything and everyone -- including Hope Taggert. But his willful neighbor refused to take the hint....

Long aware that Jeff considered her a mere kid sister, Hope was hardly over her secret crush on him. It might take nothing short of a miracle to have a place in his heart, but she wasn't about to give up without a fight. Somebody had to restore Jeff's faith -- and show him that letting go of one dream might just make room for another....

Book like new.