Batman Forever Original Soundtrack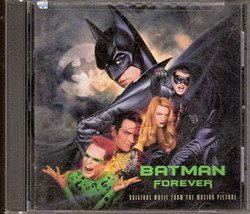 Only 1 available
Details
Shipping: US-Mainland: $3.60 (more destinations)
Condition: Used
Returns: 10 days, buyer pays return shipping (more)
Batman Forever Original Soundtrack, Music CD.Atlantic Records, 1995

CD Like New, Some scraches on case. tracks on the Full Length Audio CD:

1. Hold Me, Thrill Me, Kiss Me, Kill Me4:46 - Adam Clayton, Bono [U2], Edge [1], Larry Mullen, Jr.
2. One Time Too Many2:52 - PJ Harvey
3. Where Are You Now?3:57 - Lenny Kravitz
4. Kiss from a Rose3:38 - Seal
5. The Hunter Gets Captured by the Game4:06 - Williams Robinson, Jr.
6. Nobody Lives Without Love5:05 - Tonio
7. Tell Me Now4:17 - Sandoval
8. Smash It Up3:26 - Alasdair Ward, Captain Sensible, Dave Vanian, Rat Scabies
9. There Is a Light4:23 - Nick Cave, Tim Friese-Greene
10. The Riddler3:30 - Clifford Smith [Method Man], Neal Hefti, Robert Diggs
11. The Passenger4:37 - Iggy Pop, Ricky Gardiner
12. Crossing the River4:45 - B. Steinberg, Colin Devlin, Jeff Awake, R. Nowels
13. 85:27 - Sunny Day Real Estate
14. Bad Days4:39 - Coyne, Ivins, Jones, Steven Drozd
Case has a crack, all original art present and in mint condition.